Mexican-American weddings are built on a foundation of tradition. They're ripe with cultural uniqueness that offers a glimpse into the Latin way of life. Planning your Hispanic wedding ceremony and reception involves a lot of moving pieces and parts. Below is a starter pack of ideas to help get the happy couple organized and their honored guests excited for the boda del siglo (wedding of the century).
Locale
Choosing a location for your big day is a critical first step. It is the container for your love and the place your devotion gets commemorated. When searching for a Latin-American wedding venue, focus on one that offers meaningful touches. Whether these be architectural flourishes or lush botanical gardens with a tropical feel, make sure you can feel a connection. You can also ask your full service wedding venue to imbue your reception area with culturally significant décor including papier-mâché piñatas or stars, country-specific flowers and brightly colored linens for your curated head table.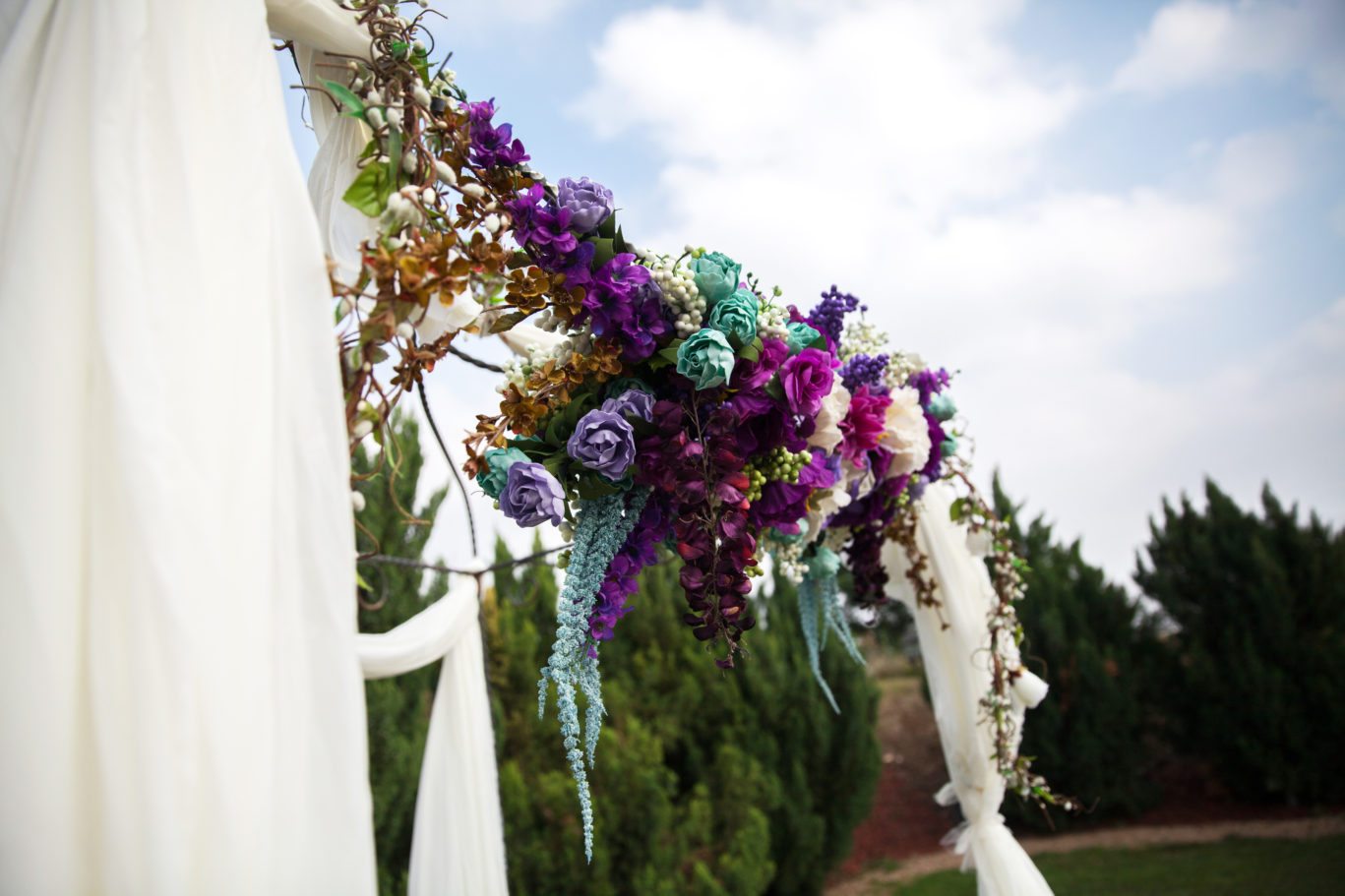 Familia
In traditional Mexican-American weddings, it's family first. Guest lists are usually extensive including third cousins twice removed and everyone in between. Essentially, if you're even mildly affiliated with the bride or groom's family, expect to receive a save the date. No one is excluded, helping the party double as a family reunion of sorts. Friends and loved ones should also plan on RSVPing if only to see the happy couple in their element and among their people. Plan to arrive early and stay late. Latin-American wedding receptions are known to last all night!
Hispanic wedding traditions encourage the couple to create a special role for their Godparents. Whether your madrinas or compadres support you financially, emotionally or are in your life together, they're typically a big part of any Latin-American wedding ceremony.
Traditions
There's no shortage of Latin-American wedding traditions. Each will be specific to your family's country of origin, but feel free to adopt others that speak to you individually, too. Some sweet and special matrimonial customs include:
Tying the knot: In Guatemalan tradition, husband and wife are bound together symbolically by a silver rope. In Mexico, a rosary is looped in a figure eight to unite both hearts for all eternity.
Coins for Catholicism: Hispanic countries take a cue from Catholic tradition and have couples exchange 13 blessed, gold Arras (coins) that symbolize their commitment to support one another.
Putting Rings on it: Chilean and Argentinean lovers exchange rings before the wedding ceremony. After they profess their vows and say 'I do' they switch bands from the right to left hand as a show of forever.
Money honey: Money dances are a popular Hispanic wedding to-do. Family creates a receiving line and pins dollar bills to the groom's lapel or bride's wedding gown during the course of a short dance. The funds are typically used during the honeymoon or to furnish their new home.
Picture This: Since the happy couple will be spread thin during the wedding reception, they may not get to spend quality time with each attendee. Provide guests a fun way to share their memories with you by asking your Hispanic wedding venue to set up a Cotillón—or traditional photo booth. Cue the costumes and position the props, because these pictures are sure to be a riot!
Food and Drink
Provisions and libations with Hispanic flare are numerous. Here are a few of our favorites:
Bebidas:
Sangria
Caipirinha
South American wine
Michaleda
Mexican Sodas
Batidos
Cafe con leche
Horchata
Comida:
Pasteles
Empanadas
Tapas
Pupusas
Plantains
Arroz y Frijoles
Tres Leches Cake
Taco or fajita station
Flan
Song and Dance
What's a wedding without a strong beat to dance you into the wee hours of the morning? Get moving with songs and traditional dances like the merengue, tango, mambo, salsa, flamenco, or samba. You can also look for bands that have a heavy focus on horns, strings, and accordions.
Ultimately, each country has its own distinctive wedding practices. Pick and choose what feels right for you and the overall experience will have beautiful, traditional threads woven into the fabric of your Hispanic wedding celebration.
To learn more about booking your Latin-American wedding venue, contact Dallas Palms to get a run down of our pricing options and other event details. You can schedule an appointment directly by emailing info@dallas-palms-wedding-event-venue.websitepro.hosting or calling 972-416-1416.