Meetings and other mid to late day work functions are a predictable way to inconvenience your staff. With all they have to do over the course of a day, the last thing they want is to have their flow segmented part way through the afternoon. Scheduling an event at the end of the workday when employees are guaranteed to be drained is hardly any better. The solution? Host a business breakfast or corporate brunch event first thing in the morning. It's a quick, painless and enjoyable way to bring your professional community together. There's no secret formula for planning a successful business brunch, but we do have some tips to help you get started.
1. But First, Coffee
No matter how interesting your material, first thing in the morning is still first thing in the morning. We recommend having a coffee station set up near the registration desk so participants get their fix before they even walk in the event space. Also, Dallas knows its coffee so if you're going to spring for beans, make sure they're quality. Have dairy-free options and sugar alternatives, along with teas to accommodate all manor of caffeine consumers.
2. (Balanced) Breakfast is Served
Set up a snack station so attendees can grab a nosh before they take their seats. Fresh fruits, yogurt parfaits and granola bars are all perfect early morning fare. This will keep everyone from getting hangry before you even kick off.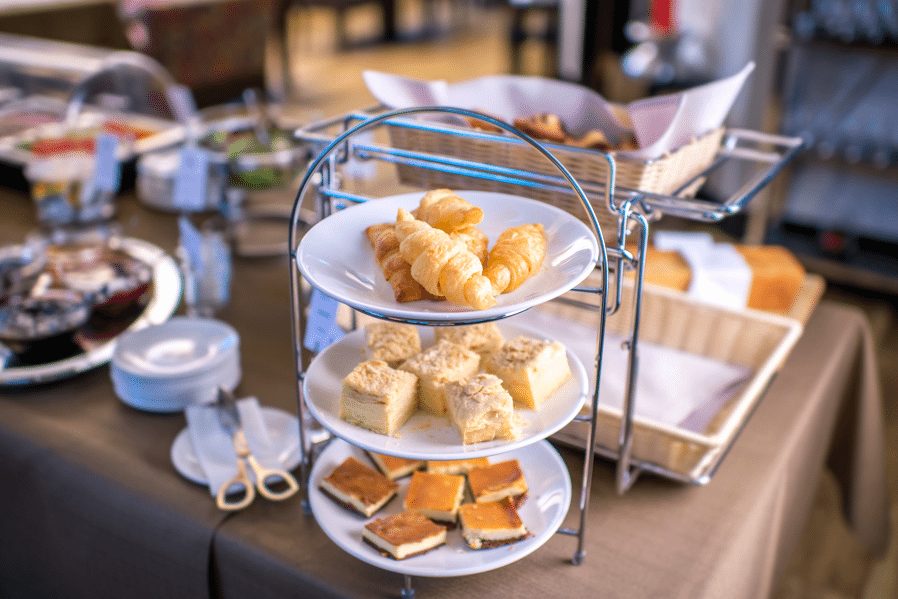 For the main course, avoid a buffet setting, which could disrupt your presentation. Instead, ask your full service event venue to have staff onsite that can help take orders and serve the meal. To simplify the process, allow guests to choose from three balanced breakfast options. Make sure to have vegetarian friendly plates and lots of protein-based dishes to help keep energy levels up.
3. Energetic Introductions
Next, have your sunniest MC take the mic and outline the agenda then make brief introductions to your featured speakers. Bonus points if they can script in a joke or two. Laughter is a great way to start the morning. Keep this segment short, sweet and on topic, but try to leave enough time for folks to finish their breakfast.
4. Get on Your Feet
Once everyone is finished eating, plan a fun activity that gets folks on their feet. This will prevent the dreaded food coma. It can be a small scavenger hunt, name introduction game or simple bathroom break before the presentations get underway. (After all that quality coffee, they might be bursting!)
5. Presentations with Passion
Be mindful of your attendees' time and keep presentations on a strict schedule. Usually about 15-20 minutes is all a person can realistically handle, especially first thing in the morning. Use the TED Talk method and have a timer counting down to encourage speakers to stay on track and come well prepared. Keep in mind that the livelier and more engaging the presentations are, the more positive the overall takeaway will be.
6. Network It
After a full meal and copious amounts, give participants a chance to engage and connect with other attendees. It'll help make them feel like their time was well spent. This could be structured in any number of ways, but realize that without alcohol as an available social lubricant, you may have to help things along a bit. Try grouping tables based on industry or company roles and build in time for them to chat about the particulars of their day to day. You could also set up a short 'meeting bingo' and encourage employees to collect the business cards of at least five people whose roles differ from theirs. Turning it into a bit of a game can give folks the buffer they need to start a conversation.
7. Swag Bags
Since most attendees will be headed back to the office once your meeting wraps up, now's the time to get your promotional products in their hands! Many of these will end up on their desks at work and could encourage them to pick up the phone and call next time they require your services. Plus, it's always nice to show guests a bit of appreciation for the early morning participation.
8. Online Wrap Up
No matter how stimulating and engaging your morning corporate brunch event, some guests will mentally sleep through it. Providing digital meeting notes is a great way to drive home the most important information from the session. Make sure to include your contact information should they have additional questions or want to do business with you in the future. Want to get the team together with minimal impact to their overall productivity? Try planning a corporate breakfast event. Distill the most important information of the day over the most important meal of the day! As a full-service event venue, we're standing by to help you serve the most delicious business brunch with all the fixin's. You bring the suits and we'll bring the fruits!