In the beginning phases of wedding planning, the initial sticker shock may have you and your sweetie seriously considering eloping. But a wedding without any family or friends is really more of a date. Soon, Dallas Palms will be formally announcing a new package designed to help you get that big wedding feel without the big wedding price tag. Stay tuned for more info, but in the meantime, here are five ways you can save on your big day and still have the wedding of your dreams.
Date and Time
One of the best ways to save is to plan over a lengthy engagement. It cuts out the extra cost associated with a rushed wedding. In that time, try to lock down a wedding event venue that offers ceremonies and receptions during the week. You can also
plan your celebration over brunch
or early afternoon or even on a holiday. Venues are likely to cut you a break if you book outside peak times, plus your guests are less likely to eat and drink as much during the day.
Entertainment
Unless you happen to have a harpist in the family, you might want to rethink the live music portion of the evening. Instead, try creating your own
party-perfect playlist
. It can include some crowd favorites as well as romantic numbers that are special and nostalgic to the happy couple. Try searching for acoustic covers of popular hits for a sweet serenade without the extra expense. Also, consider having lawn games as part of your entertainment plan! They're an inexpensive way to get the party started, especially if your celebration is during the day.
Provisions
Having a beer and
wine "cocktail" hour
with hors d'oeuvres instead of a full bar and multi-course dinner is a great way to save a few pennies. It allows you to feed guests without the extra cost of full-blown meals. In some cases, it might be possible to forego a wait staff if the light appetizers are set up buffet style. If you're not so keen on cake, ask guests to bring a dessert that's been in their family. It's a sentimental way to serve sweet treats without spending extra for a pastry you don't need.
Flowers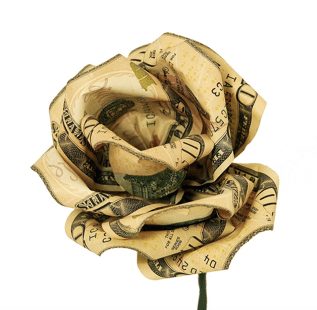 Select with the seasons and shop local to save big. You can also trade out more expensive blooms like roses and calla lilies for less expensive florals of the same color. If you're searching for a cost-effective centerpiece, purchase flowers with large blooms like hydrangeas or a cluster of heirloom carnations. You'll have to buy far fewer to create an impressive display.
Dress
Okay, so this isn't specific to the reception, but what's a wedding without a dress? Much like when you're
booking the perfect full-service wedding venue
, when it comes to buying your bridal gown, timing is everything. During summer and winter, many bridal shops and designers will host huge blow out sales to make way for spring and fall fashions. You can also purchase a more simple sheath dress type style and add your own accessories and embellishments. To save on alterations, consider investing in a corset fastened gown that can be pulled tight to fit your frame. Generally, the smaller your wedding party the smaller the budget. But if you don't have the heart to cut back your guest list, these tips will help you corral your spending. To learn more about Dallas Palms, our pricing options and other affordable wedding packages, please schedule an appointment with us by emailing info@dallas-palms-wedding-event-venue.websitepro.hosting or calling 972-416-1416.