"Where there is no wine there is no love" – Euripides. Nowhere are these words truer than at your wedding. Unless you're planning to have an alcohol-free reception, it's almost expected that you'll have various of vino varietals for guests to enjoy.
In honor of National Wine Day, we've gathered some tips to help you pick wedding wine like a bonafide oenophile.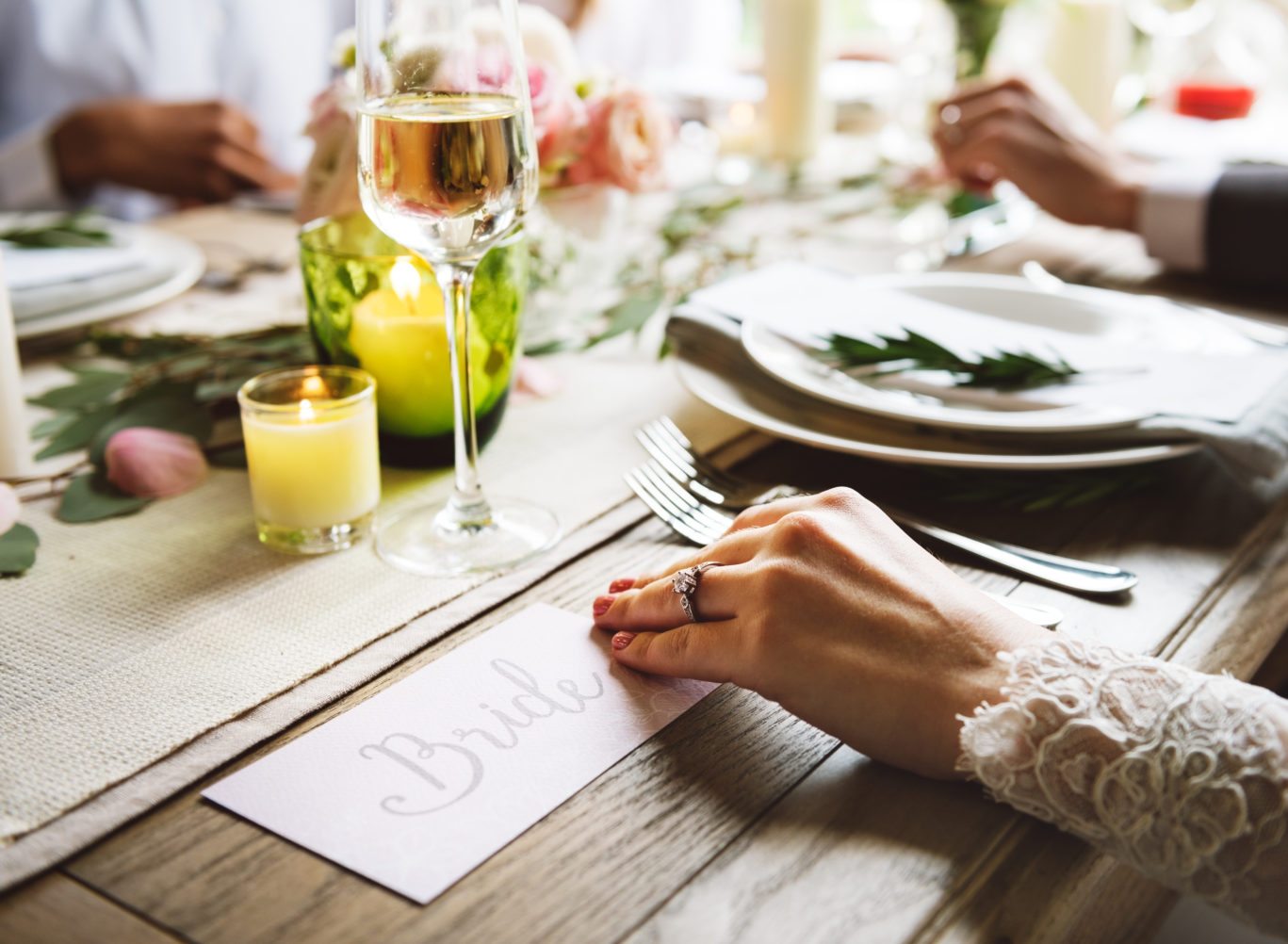 Take note of what you and your fiancé like.
You don't have to be intimately familiar with every note and tannin to have a general idea of which wines you like best. A few months before your wedding reception, start a notebook where you catalog bottles that pique your interest. The more you sample, the more knowledgeable you'll be. Plan date nights were you do in-store tastings and dinners at local wine bars. You can also join a wine of the month club or make it a point to pick up a fresh bottle each time you're out shopping for groceries. After some time, you'll get an idea of the types and regions you most enjoy. From there, you can work backwards until you select the perfect vintage and year at the perfect price.
And possibly three! Some guests may identify exclusively as red wine drinkers. Others may only want white, so it's important to have one of each at minimum. Depending on your budget, purchasing a few bottles of rosé is also a good idea. It's the fastest growing varietal for a reason—people love it! Of course you can always elect to add some bubbles to the mix instead if you're looking to do a champagne toast with the cake cutting.
Choose wines that are more universal.
At weddings, 'year-round wines' that are on the lighter side tend to do better than those with bolder bodies and heavier alcohol contents. Most experts generally recommend crowd pleasers like Sauvignon Blanc or Pinot Noir that are simple and fruit forward. If you want bubbly that isn't crazy expensive, go with a pleasant Prosecco.

Taste test wine and food pairings.
There's no hard fast rule that says reds absolutely have to pair with meats and white wines are married to chicken and fish, so don't feel limited there. Still, it's important to do a menu tasting of both food and drink together. If you're working with a full-service event venue that has a catering staff in-house, ask them to make wine suggestions based on the dishes they plan to serve. While you don't necessarily have to take their recommendations, do make sure you sample each suggested pairing before settling on a specific vintage.  
Buy enough to last all night.
As a general rule, it's best to allot one bottle of wine per person. Whether they drink a glass during the cocktail and hors devours hour, two with dinner and one during the champagne toast, you'll want to make sure there's enough to go around. Nothing kills a party like running out of giggle juice. It's the equivalent of stopping the music mid-song. Make sure to buy a little extra white during a summer wedding, and bit more red in winter as folks sometimes tend to drink with the seasons. Pro tip: be sure to read your contract and get clarification from the wedding venue about any possible corkage fees.
Ultimately, you don't have to be a sommelier to select a sumptuous wedding wine. Follow a few simple parameters and the wine will be flowing as steadily as your love.
To learn more about Dallas Palms, our pricing options and other event details, please schedule an appointment with us by emailing info@dallas-palms-wedding-event-venue.websitepro.hosting or calling 972-416-1416.