Oscar Wilde once said, "Mere color, unspoiled by meaning, and unallied with definite form, can speak to the soul in a thousand different ways."
On the most important day of your life, as two souls converge into one, what do you want the colors surrounding your union to say? Should they be a bright and vibrant expression of your love or a soft, romantic illustration of forever? Should they reflect the individual personalities of your wedding party or take a cue from the season?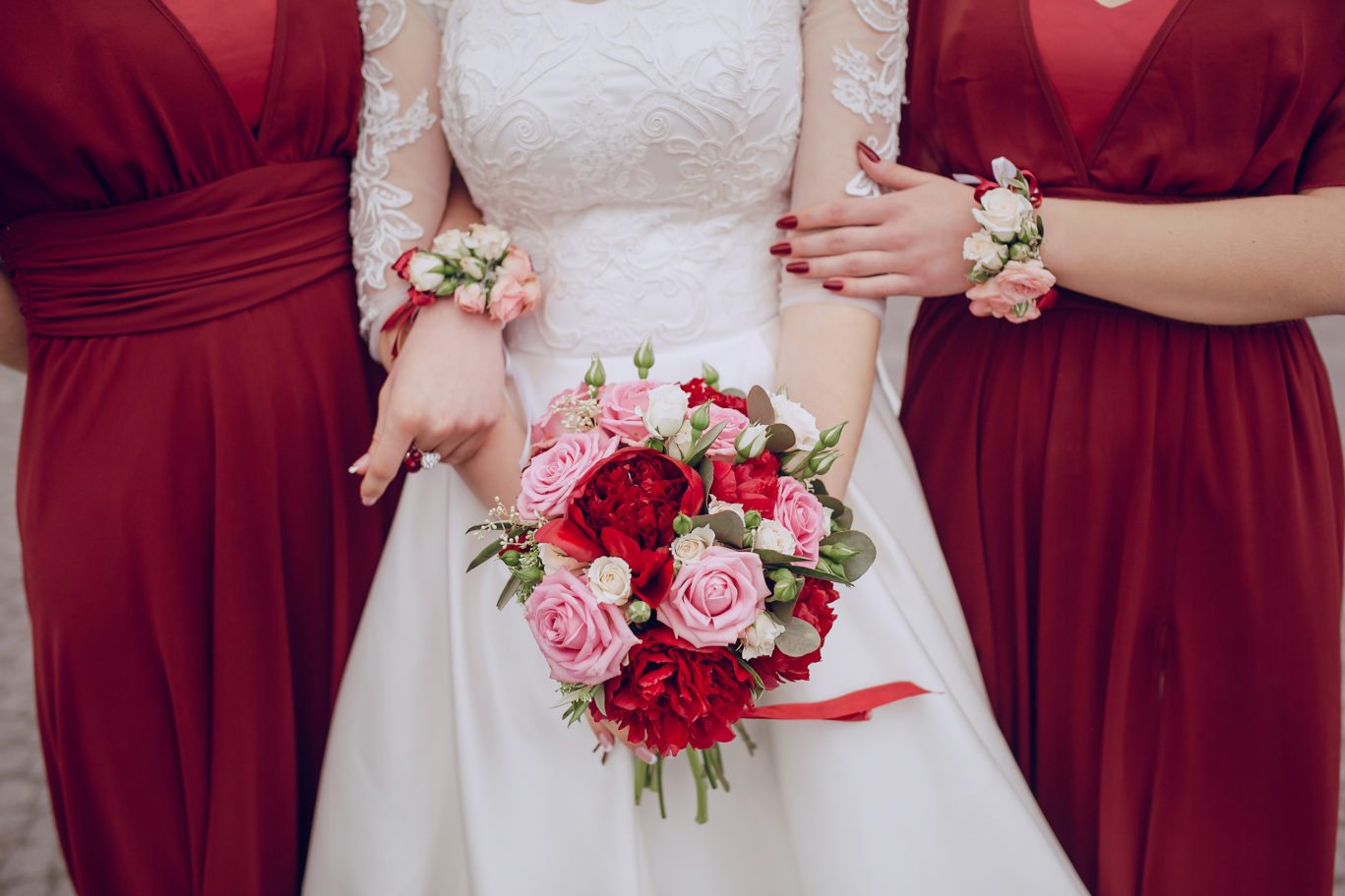 Use this guide to help you answer the myriad important questions that come with picking colors for your bridesmaid dresses.
What general mood will your bridesmaid colors convey?
Unless you renew your vows later in life, you only have one chance to set the tone at your wedding. Since colors are great translators of emotion, make sure you have a pre-meditated idea of what you're trying to convey. For instance, bright oranges or bold blues paint a very different picture than romantic lilacs or earth-tone greys.
What inspiration can you draw from your wedding venue?
The setting of your nuptials is a huge determinant of your color palette. As you're searching for the perfect wedding venue, make sure to take notice of the details. Focus on two or three specifics and see what colors emerge. Note the flooring, drapes, walls, even pew color if your ceremony will take place in a church. Ask yourself if the carpet in the grand ballroom will clash or if the banquet hall offers enough of a blank slate. If the reception venue is different from the wedding ceremony, do the same for it, too.
How does the season impact your color choice?
In truth, there's no hard and fast rule that says you have to base your color palette around the season. Though generally speaking, pastels are closely associated with spring blooms while deep, rich colors mirror fall foliage. Metallic colors go over well in winter months and bright, warm shades like coral are exceptionally popular in summer.
Do colors pair well together?
More than three colors, or variations thereof, can muddle your theme. For cohesion, stick to two or three. If you still feel you need some variety, go with a monochromatic color scheme that uses the same shade with differing saturation levels.
Will your color choice be flattering as a bridesmaid dress?
Even if lime green or burnt orange are your personal favorite colors, remember that not all hues will translate as a bridesmaid dress. When in doubt, keep in mind that shades of blue and pink are the most popular bridesmaid dress colors. Choosing colors that work well with a variety of skin tones is a smart choice, and exercise caution when selecting bridesmaid dresses that are too neutral.
Will you love these colors over the long-term?
You're going to be showing off your wedding photos for a long time. You don't want to look back and regret your choices because they were too "trendy". Also remember that your bridesmaids will probably want to wear their dresses after you say "I do". They're sure to thank you for choosing a hue that's more universal.
In the end, you want to be fully confident that your wedding colors communicate the right mood on your big day, so ask and you shall receive. Tackle these questions and you'll soon be saying "I do" to the perfect bridesmaid color palette.
To learn more about Dallas Palms, our pricing options and other event details, please schedule an appointment with us by emailing info@dallas-palms-wedding-event-venue.websitepro.hosting or calling 972-416-1416.