At Dallas Palms, each of our three beautiful ballrooms have their own stunning and spacious outdoor gardens, perfect for wedding ceremonies, receptions, celebrations and more. Decorating such a large expanse of empty green space can be daunting, but with just a few unique design elements it can quickly become a homey, warm and inviting place for your guests to party the night away!
LIGHTING
Lighting can set the mood and bring pure romance to a ceremony or reception. Set up your lighting in a way that works best for your style! For a whimsical and intimate wedding, try fairy lights. They look great tied around trees, draped on fences and displayed in other parts of the venue. For the rustic or romantic wedding, a great option is DIY lanterns, which both look adorable and provide a great source of outdoor lighting. On your table display, light up the night with some nice candles; maybe have them floating in mason jars or mix and match for a rustic feel. A fun trend for the end of the evening is to release Chinese lanterns with your guests, but often works best in less populated areas with little tree cover. And, last but not least, don't forget about the sparklers send off! Taking the place of the traditionally thrown rice, sparklers make for some great photos and your guests will love them, too!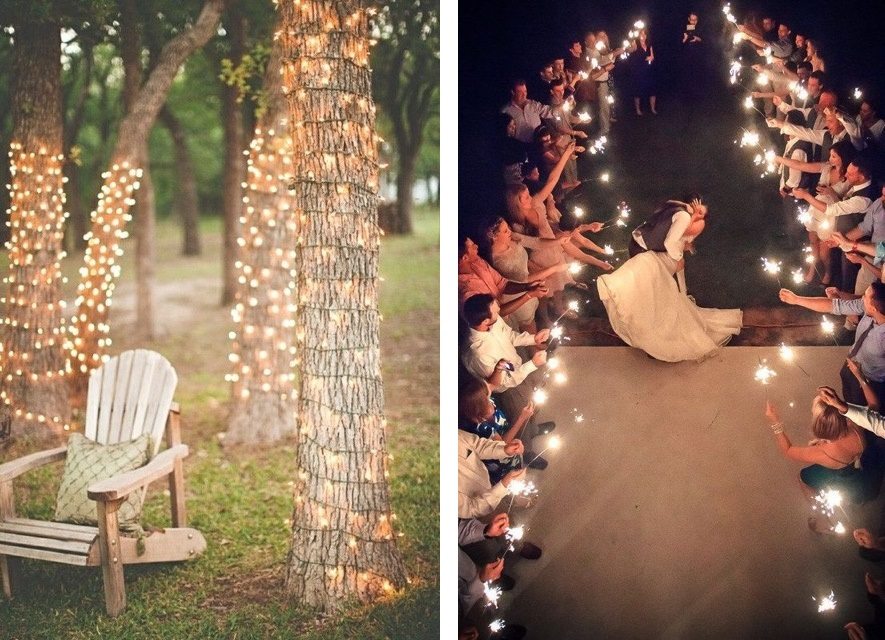 CHALKBOARDS
Chalkboards are a cute and easy way to display seating arrangements, menus, drink options, social media information, and literally anything else you could ever think of. They're easy to use, easy to read, and give your outdoor decor that rustic, Pinteresty look that a lot of brides are loving these days! Don't forget to place your wedding hashtag on the board for guests to see so that they know what to tag when posting pictures. Need help coming up with the perfect wedding hashtag?
Check out our blog post for some great tips and tricks!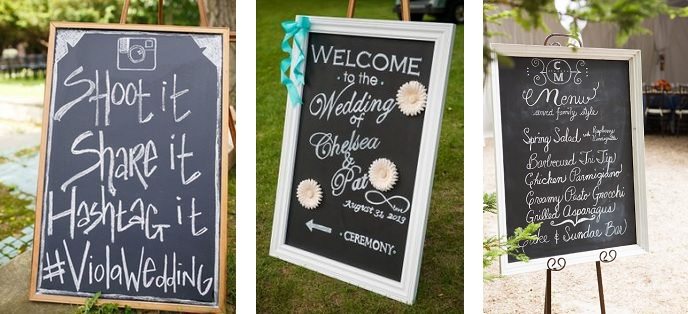 WEDDING WEATHER GEAR
If you're having an outdoor wedding ceremony or reception, weather is obviously going to be on your mind. Weather can be unpredictable and affect the comfort of your guests, so it's best to be prepared for anything – but it can also be a unique way to incorporate fun design elements. For summer outdoor weddings, prepare some hand-fans that double as a program, set up bug spray stations or get some personalized sunglasses for guests to wear. If there's a chance it could get chilly as the night goes on, provide blankets in big baskets. And no matter the season, bring some umbrellas, because everyone knows that it only rains when you 
don't 
have an umbrella on hand.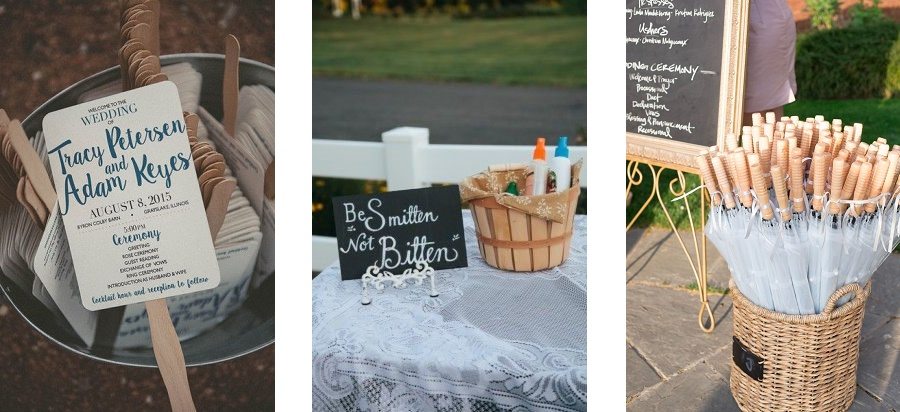 OUTDOOR BARS
Get creative give your wedding guests some fun outdoor activities to enjoy during your reception. If it's summer, chances are it will be hot and refreshing drink will be just what your guests are looking for. At a venue like Dallas Palms with multiple outdoor spaces, the opportunities are endless. Turn one of our gardens into a beer garden with sitting areas, all of you and your spouse's favorite beer and a relaxing vibe away from the dance floor. For the younger, non-drinking-age crowd, think about setting up a lemonade bar or a dessert bar that features make-your-own ice cream sundaes or s'mores. Keep your guests active and excited to check out all of the cool areas your outdoor reception has to offer!
To learn more about Dallas Palms, our pricing options and other event details, please schedule an appointment with us by emailing info@dallas-palms-wedding-event-venue.websitepro.hosting or calling 972-416-1416.