Do-It-Yourself projects are great for those times when you want to express your heartfelt appreciation to someone or make something truly unique and personal, but you don't want to spend a fortune. When it comes to wedding favors, a DIY project is the perfect way to save a little cash for other areas of your big day, but still show guests how happy you are that they came to celebrate. DIYs can be intimidating – I'm sure we've all seen a list of hilariously unfortunate 
Pinterest fails
online. So today we're sharing five unique DIY wedding favors that are perfect options for any budget AND are simple enough that they shouldn't result in any Pinterest fail moments.
1. Pie in a Jar
Because who doesn't like a homemade dessert? If you like to bake, a pie in a jar is an adorable way to make your guests feel loved and appreciated. Gather your bridesmaids, friends and family members to host a baking party so that you aren't doing all the work on your own. Choose your favorite pie flavors, purchase mini mason jars in bulk and get baking! Decorate your pie jars with personalized tags that say the name of you and your partner, as well as your wedding date. These delicious treats will ensure all your guests leave your wedding with a smile on their face! For detailed instructions and filling ideas, check out the
Cooking Channel's website
.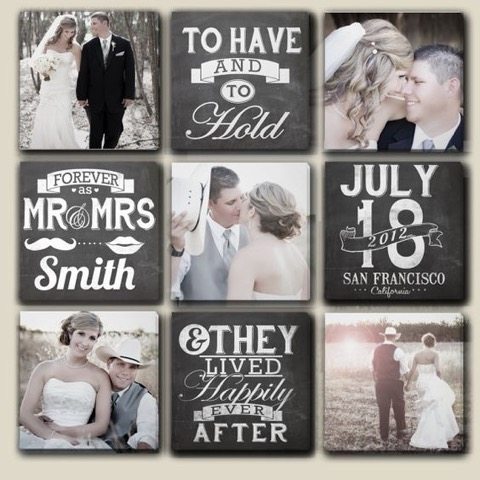 2. Custom coasters
For this DIY project, all you need are 4-by-4-inch ceramic tiles, 4×6 photos/paper, foam brushes, Mod Podge, clear spray sealant, felt and a hot glue gun. Start by cutting out your pictures to the size of your coaster (your engagement photos would be perfect for this project!). Coat the front of the tile with a layer of Mod Podge and then press the picture into the tile. After allowing for 20 minutes of drying time, brush a light coat of Mod Podge again to seal the top of the coaster. Once the photo coasters are completely dry, spray them with a quick coat of clear sealant to moisture-proof them. Hot glue felt squares onto the bottom of your coasters so they won't scratch any surfaces. Not all of your coasters have to have photos! Mix in some decorative paper that features your wedding hashtag, location, date or cute little sayings. Give each guest a combination of 4 different coasters and wrap them up with a ribbon to make it easy for guests to grab as they leave your reception! For more detailed instructions on creating customized coasters from scratch, visit
POPSUGAR
or check in with 
The Frugal Girls
.
3. Infused spirits or oil
Homemade infused alcohol, oil or honey is a thoughtful DIY wedding favor that's really hard to mess up. It's simple to make – just add one or more infusion ingredients to an individual bottle carrying your alcohol, oil or honey and you're done! Create an original flavor or find recipes and inspiration online through 
Northwest Edible Life
, which focuses on DIY infused liquors, and Kitchn, your go-to for
infused olive oils
 and
herb-infused honey recipes
. Think about including a recipe on a personalized tag so your guests can go home and make more once they've experienced the deliciousness of infused liquids.
4. Candles
Cute DIY candles are budget-friendly, quick to make and can be created using recycled materials and natural ingredients. On your shopping list will be: braided wick rope, wick tabs, unscented soy candle wax and fragrance oil formulated for use in candle-making, all of which can be found at your local craft store like 
Michael's
or
Hobby Lobby
. Start by assembling your wicks and melting your wax over a double boiler on your stovetop. Once your wax has reached 180 degrees Fahrenheit, remove it from the heat, add your fragrance oil and let the wax cool to about 125 degrees before you pour it into its container. Think outside the box when picking a container for your candle – maybe some traditional teacups for a romantic, formal wedding, decorated mini mason jars for a rustic fête or seashells for a beach ceremony. For detailed instructions on DIY candle making, take notes from the pros at
DIY Network
.

5. Wedding soundtrack
Do you have the music in you? Then a curated copy of your wedding soundtrack is the perfect, easy DIY favor for your guests! Include on the soundtrack some songs that are reminiscent of yours and your partner's love journey, as well as songs that will remind them of your wedding. If you and your partner have been together a long time, think of including a song that was popular when you two first met. Also include songs that were important in your relationship and the key songs from your ceremony and reception – the first dance, father-daughter dance, mother-son dance, etc. For an even more personalized touch, record a thank you message for the end of the CD with your husband or wife-to-be. Customize the front of your CD with a
printable label
and keep the packaging simple with an inexpensive, but totally cute
cardboard CD sleeve
. To learn more about Dallas Palms, our pricing options and other event details, please schedule an appointment with us by emailing info@dallas-palms-wedding-event-venue.websitepro.hosting or calling 972-416-1416.