Your wedding party is the group of people who will be standing next to you and your partner-to-be on one of the biggest days of your life. Your bridesmaids and groomsmen will be in a lot of pictures from your wedding day and you will be looking at these photos for the rest of your life…no pressure! In theory this should be an exciting task where you have a chance to round up your favorite people to be on your side and tell them how much they mean to you. But in reality it means making some cuts and choosing between all of your high school besties, college roommates, sorority sisters, family members, etc. It's like picking your Myspace Top 8 all over again and, inevitably, someone will get left out (because, yes, 20 bridesmaids IS too many). But don't stress! We have a few tips for you to help you make this decision and pick your A-Team with confidence:
Choosing your Maid of Honor:
If you happen to have one sister who you are close to, this decision has basically been made for you and you are #blessed. But for the rest of us, the Maid of Honor choice is a major tactical decision. Usually, the Maid of Honor role goes to one of your oldest and most loyal longtime friends, someone who knows all of your quirks, won't be rattled by any potential Bridezilla moments and, most importantly, has your trust. This lady should know you well and be both financially and logistically prepared to help you with the intricacies of wedding planning, bridal showers, bachelorette parties and all of the other tasks she will be juggling as your right-hand woman. Think of the person who keeps you calm in stressful situations, who always knows how to brighten your mood and who can plan a really good party – that's your girl. Start by writing a list of potential attendants and ask your fiancé about his top picks. If you narrow your list down to two people and can't decide, create a pros and cons list for each to get your thoughts in order. And if you still can't decide after that, there's no rule that says you can't have both, as long as you're confident they can work together.
Maid of Honor Job:
The responsibilities of the Maid of Honor include planning the wedding shower and bachelorette party. She is essentially your "Head Bridesmaid." It is her job to make sure that the other bridesmaids are well-informed and prepared for all festivities. She is the bride's main support and is tasked with keeping things running smoothly, especially on the wedding day. Last but not least, she'll be making a toast at your reception.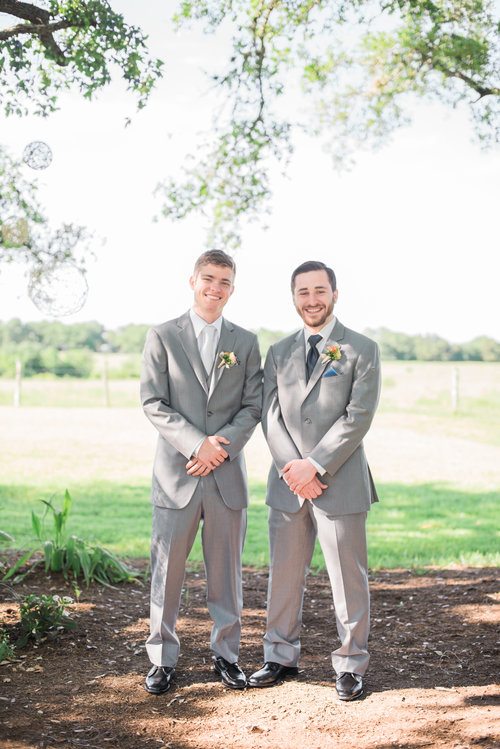 Choosing your Best Man:
When choosing your Best Man, you want someone who will be there for you and, in the best case scenario, gets along well with your fiancée. Your best bet is a brother, cousin or best friend who you know won't party too hard during the rehearsal dinner and will make it to the ceremony on time.
Best Man Job:
The responsibilities of the Best Man include planning the bachelor party and supporting the groom in whatever way he needs, whether that is rescuing him from an awkward in-law interaction or helping him choose the suits for the groomsmen. His most important responsibility is to keep track of the wedding rings.
Choosing your Bridesmaids and Groomsmen:
Include your close family and your spouse-to-be's family – especially brothers and sisters. If you have a large family and can't possibly include everybody, ask the older siblings to be in the wedding party and include the younger ones as junior bridesmaids or junior groomsmen. If your fiancé has a sibling of the opposite sex, asking them to be your bridesmaid or groomsmen opens up a great opportunity for bonding before the wedding.
Think twice before you ask. Take your time before making a decision as to who is going to be in your wedding party. It's easy to get excited about your engagement and start asking all of your friends to be bridesmaids and groomsmen, but remember that once you ask, you can't go back, so take it slow. Think about who you see as being around in your future, who you see yourself being friends with long after the wedding day.
Set your expectations at the beginning. You need to have an honest conversation with your wedding party members so that they know up front what you expect them to help with leading up to the wedding so they can make plans accordingly. Do you want all of your bridesmaids at your dress shopping adventure? Do you expect them to be at more than one bridal shower or engagement party? Are they going to be paying for their own dress or suit for the wedding and what does that budget look like? Also, keep in mind that some members of your wedding party might not live close to you or close to the wedding location. Do you expect them to fly to multiple events throughout the engagement and is that something they can realistically afford? Be appreciative of their time and involvement, let them know what you need from them and don't be upset if they have to turn down this opportunity because of logistics and finances.
Don't be afraid to leave people out! This is your wedding day, not theirs, so do not let fear of hurt feelings dictate your decisions. You know that one friend who is part of your squad and a great time at parties but has a tendency to make things all about herself and cause drama? Leave her out. Your brother's sweet girlfriend who you get along with really well and feel guilty leaving out? Leave her out. Your parents' best friend's kid who you hung out with all the time growing up but have never felt particularly close to? Leave him or her out. Go with your gut and don't look back!
Happy wedding party picking!
All photos by AR Photography. 
To learn more about Dallas Palms, our pricing options and other event details, please schedule an appointment with us by emailing info@dallas-palms-wedding-event-venue.websitepro.hosting or calling 972-416-1416.