If you want your big day to be perfect in every aspect , you should be interested in making sure that your wedding venue looks perfect. Choosing a theme is very important, but you will also want to be 100% certain that it goes well with the venue you have chosen as well.
How do you do that? Here are some tips worth keeping in mind: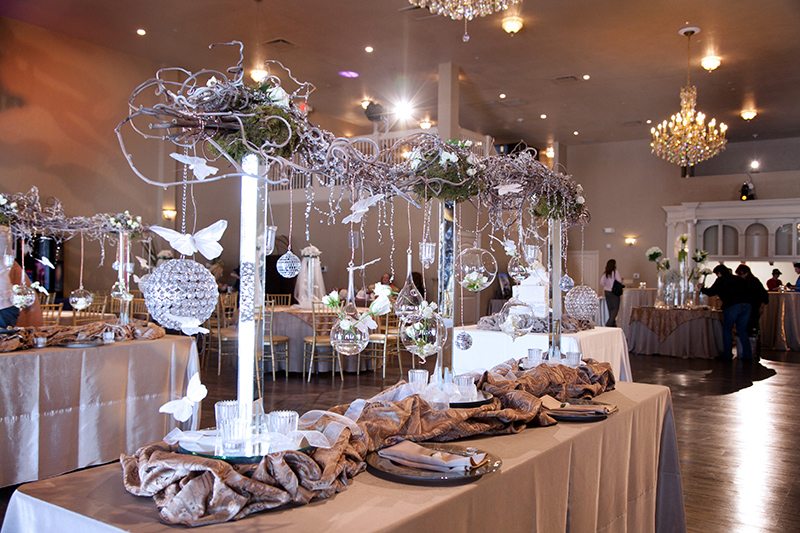 The type of venue you choose should determine the general style of your wedding theme. For instance, if you have chosen a country setting for your wedding, you should keep the décor at minimum, because the beautiful landscape will do everything for you.

The size of your chosen wedding venue is also important. If your venue is not very large, you will have to be very careful not to "cram" the space you have at your disposal. At the same time, if you have chosen a wedding venue that is very large, you should try to "fill in" the space without making it feel like "too much".

Last, but not least, the theme colors you pick should also go with the venue itself. For example, there may be venues that will not look great with very bright colors and there may be venues that will need a splash of color.
Dallas Palms Venue
has 3 special wedding venues available for you. Therefore, regardless of how many guests you will invite, one of our beautiful ballrooms will be at your disposal. Also, each of these venues is designed in beautiful neutral colors to go with any wedding theme idea you have. Furthermore, our stunning gardens make for magical weddings regardless of the theme you choose: elegant, vintage or country. We will customize everything according to your wish so that you feel truly amazing on your big day! Contact us and make your wedding absolutely unforgettable!
To learn more about Dallas Palms, our pricing options and other event details, please schedule an appointment with us by emailing info@dallas-palms-wedding-event-venue.websitepro.hosting or calling 972-416-1416.