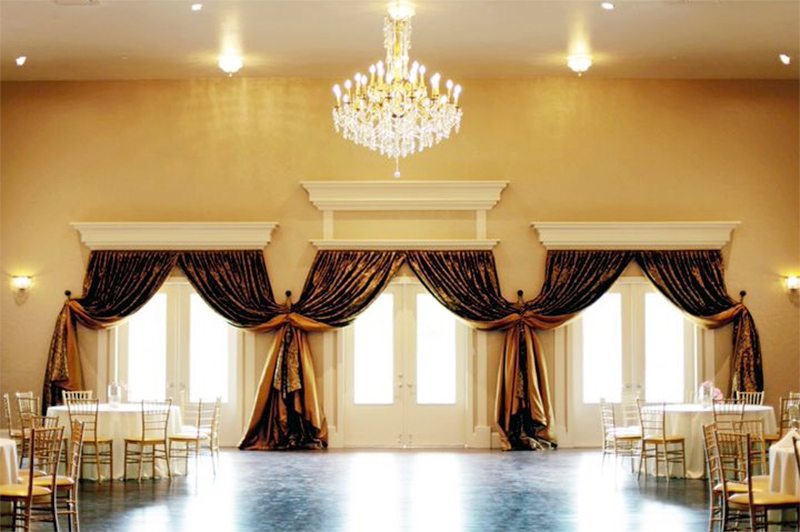 Every bride wants to feel like a true princess on her wedding day. While the bride's look (dress, shoes, hair and so on) does play an important role in this, the décor of the wedding venue does matter a lot too. If you want your reception room to sparkle – just as if it was torn out of a fairy tale – make sure to choose the right décor. Following, we have put together a list of tips and ideas on how to decorate a ballroom so that it looks truly stunning:
Gold and silver. Precious metals have always had something "royal" about them and you can successfully bring them into your wedding too. These colors tend to reflect the light and to make the room shinier, brighter and more luxurious. However, remember to use them in moderation and not to exaggerate because you want everything to look classy and elegant.
Mirrors. If you want your wedding venue to be really shiny, don't forget to incorporate some mirrors in it. You can simply hang them on the wall, but you can also be a bit more creative with them by using the mirrors as place cards or even as part of the table centerpieces . For example, you could place your centerpieces on top of a mirror and this will add dimension and elegance to the way the centerpiece looks – even if it's just a simple flower vase.
Glitter. Same as with gold and silver, you should use glitter in moderation. However, the good part about it is that it can be incorporate in everything you want to – from the bridal bouquet to the wedding cake. Combine glitter with matte colors and textures and you'll achieve a really stylish effect.
Dallas Palms Venue
can provide you with the perfect ballroom for your Big Day. Do not hesitate to visit us and to take a look at what we can offer – and we guarantee you will absolutely love the beautiful elegance our venues provide. Come take a look and see how you can incorporate your "fairy tale" wedding décor ideas into our stunning venues! To learn more about Dallas Palms, our pricing options and other event details, please schedule an appointment with us by emailing info@dallas-palms-wedding-event-venue.websitepro.hosting or calling 972-416-1416.