One of the most exciting parts of wedding planning for many brides is (duh!) dress shopping. After watching countless episodes of "Say Yes to the Dress," perusing dozens of bridal magazines and maintaining an extensive wedding dress Pinterest board for the past decade, you've probably got your wish list off to a good start. But before you get your heart set on a dress you see in a glossy bridal magazine worn by a sample-sized model who is paid to look good in everything, remember to think critically about your own body type and the parts of your body that you are hoping to really show off on your special day. To narrow down your options and simplify your shopping experience, we've made a list of tips and helpful hints broken down by a few of the most common body types: pear-shaped, full bust, tall, petite and curvy.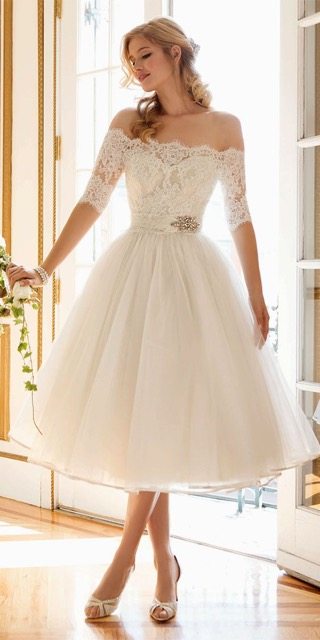 Pear-shaped
The best dress for a pear-shaped body type has an open neckline or strapless top. The key is to draw the eye up towards your face and balance your proportions! Look for a dress that has an A-line shape, showing off the smallest part of your waist and then falling softly away from your body like the shape of a letter "A." Consider dresses with textural interest or stylish details around the bust that will make your upper body appear more full. Check out more options for pear-shaped brides here!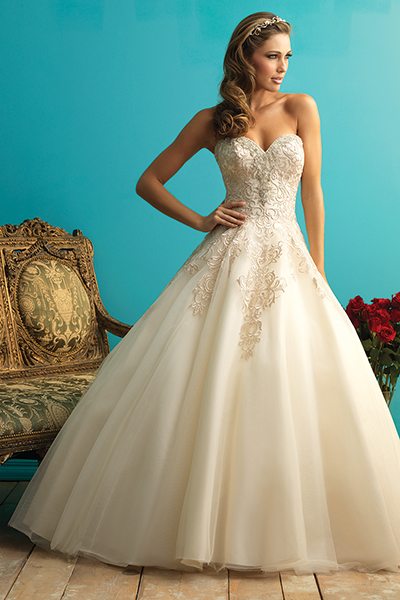 Full bust
A busty girl's best friend is a built-in corset! Just because you have a fuller bust doesn't mean you should be left out from the current trends of strapless dresses and sweetheart necklines, and a corset should do just the trick to keep you supported but covered. Scooped necklines do a great job of displaying your decolletage without showing off too much. An off-the-shoulder or boat neckline can help to draw the eye across your shoulders and make your upper body appear smaller. If you choose to go with a sweetheart neckline, a full skirt will help balance out your proportions and give the impression of an hourglass shape underneath.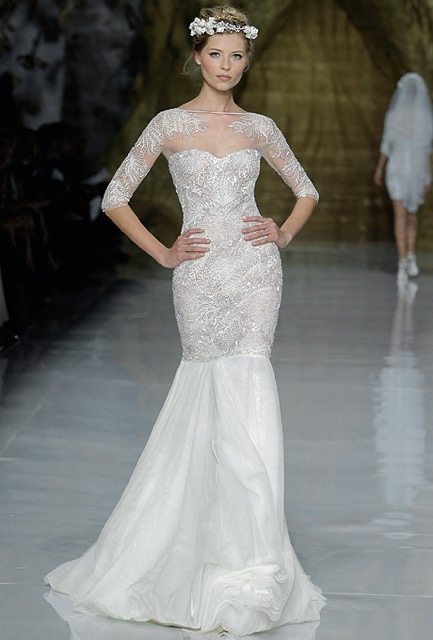 Tall and lean
Tall, slim women have the advantage of fitting into almost any of the dress shapes they might desire, but even still, every body type faces challenges. A woman with this body type may be looking to emphasize their curves and create the illusion of an hourglass. Consider a voluminous peplum skirt to add curves to your hips or a dress that features contouring seams and patterns that will help show off the natural curves of your body. A wedding dress that features a slit is a great way to show off long legs and the popular illusion necklines would highlight a swan-like neck by showing just a hint of bare skin.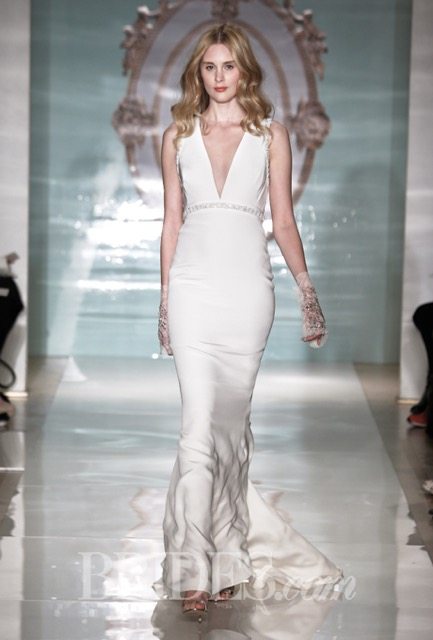 Petite
The first rule for dressing a petite body type is to avoid overwhelming your small frame with too much detail or pattern. An airy sheath or structured trumpet style is generally going to fit your frame better than a giant, frothy ballgown. Look for vertical panels that will help your body appear longer or, if you're seeking some bottom-half volume, a tulle skirt gives you the shape you want without the heaviness of a traditional ballgown skirt. Lengthen your chest with a plunging V-neck! Or you can keep the dress minimalist, which is always chic and classy, and dress is it up with your accessories. For more wedding dresses specifically geared towards petite body types, here's a slideshow from Brides!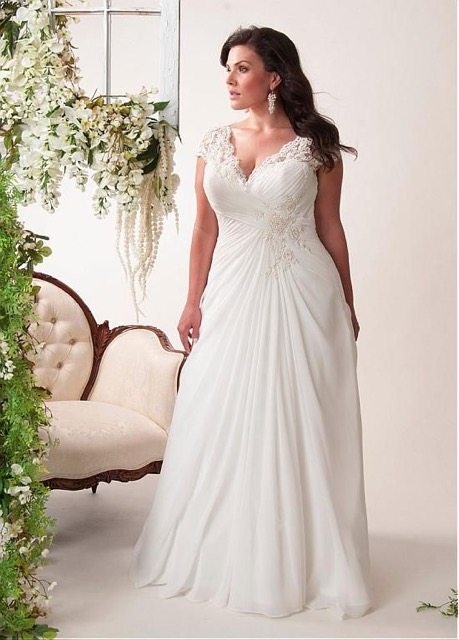 Curvy All Over
Curvy brides can go in many different directions with their dress choices – perhaps you want to find a silhouette that is going to show off your shape or maybe you're looking to minimize some of your curves and create the illusion of a smaller frame. If you're taking the minimizing approach, a dress that comes in at an empire waist or natural waist will show off the smallest part of your body and create a lengthening effect. A dress with light chiffon sleeves or lace will give you the opportunity to wear supportive undergarments without adding any bulk to your upper body. If you're looking to define and highlight your curves, find a dress with strategic draping, ruching and details that will give you the best shape for your big day! For more dresses that are perfect for curvy brides, check out this slideshow by Bridal Guide!
To learn more about Dallas Palms, our pricing options and other event details, please schedule an appointment with us by emailing info@dallas-palms-wedding-event-venue.websitepro.hosting or calling 972-416-1416.