For many couples, an engagement photo session is their first time to pose for pictures together with a professional behind the camera. And let's be real, it can be awkward. We've all seen our fair share of cringe-worthy engagement pictures. But it doesn't have to be that way! Engagement photos are a great opportunity to commemorate the start of your beautiful journey together, but also a time to try out some poses with your partner, see what works best for you two and get more comfortable in front of the camera before your wedding day. Here's our advice for taking the best engagement photos: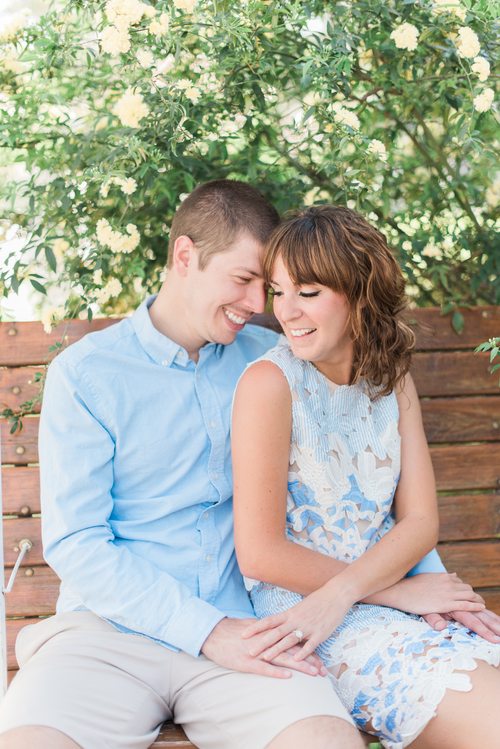 LOCATION: BRING IT OUTSIDE
For the most natural photographs with flattering lighting, your best option is to find an outdoor location for your engagement photo session. There is no better lighting than natural sunlight, and frolicking in the grass is an easy way to get you and your partner feeling comfortable in front of the camera. Choose a place that is special to your relationship – find the bench where you had your first kiss, stand outside the ice cream shop where you had your first date or a nearby park where you walk your dog. The more familiar you are with your surroundings, the more natural and at ease you will feel having your picture taken.
WHAT TO WEAR: BE YOURSELF
While you want to look and feel your best for your engagement photos, don't overthink it! Wear something comfortable that makes you look and feel like your everyday self with a little added sparkle. Don't feel like you have to go shopping for matching outfits – everyone knows you are getting married, you don't need to look like twins. And also don't feel like you have to dress up! Emphasize your sense of personal style and personality, whether that's jeans and cowboy boots or a sun dress and wedges. Avoid busy patterns that could become distorted in the photos and watch out for reflective jewelry that could shine unintended light on yourself or your partner. Keep it simple: pick neutral, complementary colors that will suit both you and your partner and, whatever you do, don't plan on trying out a new hair color or makeup technique for your engagement photos, unless you want a good giggle when you look at your photos five years from now!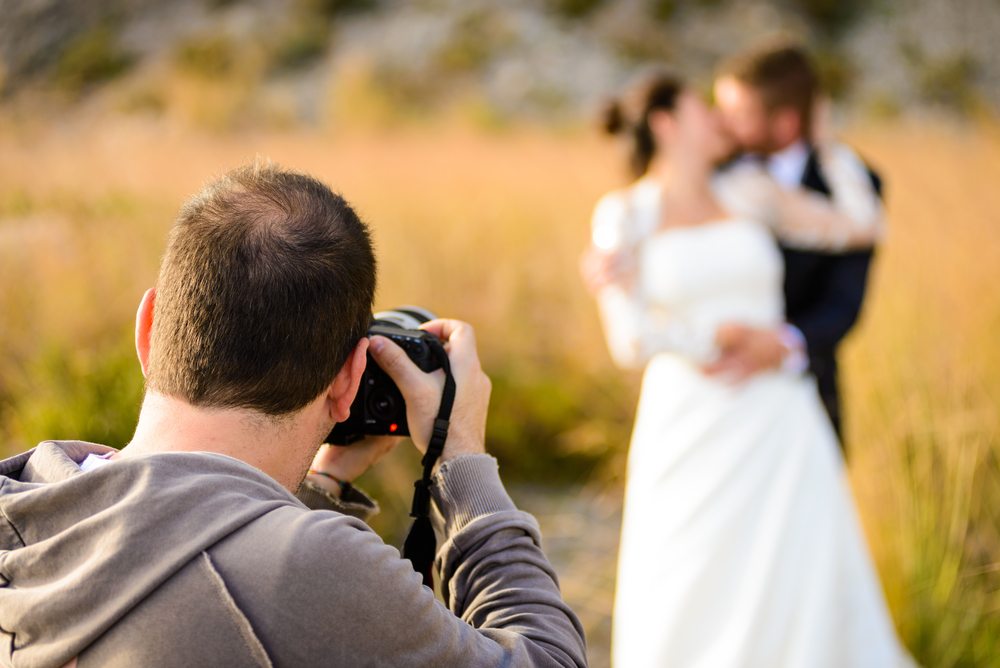 PHOTOGRAPHER CHOICE
Some photographers include an engagement photo session as part of your wedding photo package, which gives you a great opportunity to see your photographer in action before the big day and it's also a great way to save a little cash. If your wedding photographer does not offer an engagement session as part of a package, expect to pay up to a few hundred dollars for a basic portrait, with final price depending on the photographer, session time and print details. Ask your photographer if they can help you turn your photo into a save the date announcement or if they partner with a graphic designer who can save you a few bucks working out a package deal.
Before you call a photographer and set up your photo session, discuss your ideas for the style of the photos with your partner. Do your research online; look at photos the photographer has previously taken and see what you like and what you would want to change to personalize the photos for you and your partner. Plan in advance, but most importantly smile and don't forget to have fun with your loved one!
To learn more about Dallas Palms, our pricing options and other event details, please schedule an appointment with us by emailing info@dallas-palms-wedding-event-venue.websitepro.hosting or calling 972-416-1416.