Start Planning Your Office Holiday Party Today!
Summer is officially over– at least for the kiddos. And while it may feel strange to be planning for the holidays in this Texas heat, they'll be here before you know it. When it comes to corporate events like your office holiday party, if you're not ahead you're behind. Here's why and how to get started booking your holiday party event venue.
Dallas Corporate Boom
In the past year alone, at least four major world corporate headquarters have relocated to North Texas. From Facebook to State Farm, folks are flocking here in droves. Toyota's corporate headquarters alone is estimated to hold at least 4,000 employees.
The number of companies eying Texas as their permanent home keeps growing each month, and you're in competition with all of them for a prime holiday party corporate event space.
Don't wait until all the good venues are booked to start your search.
3 Reasons to Book this Month
1. The earlier you reserve, the more RSVPs you'll have. During the holidays, people's schedules fill up fast! The sooner you can get on your employee's calendars, the more likely they are to attend.
2. Most people are in town during the fall season. Since the kids have settled back into the classroom, most families are done with summer travel and better able to respond. But if you wait too much longer, they're likely to head out again for the Thanksgiving holiday, which could make booking and planning difficult.
3. Book early for the best pricing. Wait until the last minute and the event venues that do have availability are likely to charge an arm and a leg. The sooner you lock something down, the better the price is likely to be.
Tips for Serving a Tasty Business Breakfast or Corporate Brunch
Meetings and other mid to late day work functions are a predictable way to inconvenience your staff.
The solution? Host a business breakfast or corporate brunch event first thing in the morning. It's a quick, painless and enjoyable way to bring your professional community together.
Here are 6 tips to get you going
1. But First, Coffee – Set up a coffee station ] near the registration desk so participants get their fix before they even walk in the event space.
2. Serve a Balanced Breakfast – Feeding attendants before they take their seats will keep everyone from getting hangry prior to you even kicking off.
3. Keep the Energy Up – Make your speaker introductions and presentations energetic. Then come up with a few activities like meet and greets that get attendees moving.
4. Leave Time for Networking – Giving participants a chance to engage and connect with other attendees will help make them feel like their time was well spent.
5. Provide Swag Bags – Swag bags are a fantastic way to get your promotional products in front of potential customers. They also serve as a nice thank you for participating so early in the morning.
6. Wrap it up Online – Providing digital meeting notes is a great way to drive home the most important information from the session.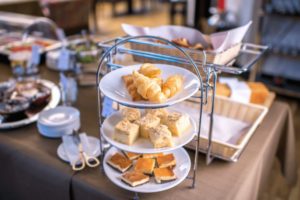 Want to get the team together with minimal impact to their overall productivity?
We're standing by to help you serve the most delicious business brunch with all the fixin's.
You bring the suits and we'll bring the fruits!