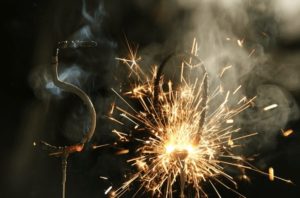 Each and every trip around the sun is a special opportunity to celebrate with family and friends. Sometimes the birthday girl (or boy) is happy to be the center of attention. Other years they may want to bury their heads in the sand and forget about the day entirely.
Milestone birthdays tend to elicit some of both.
Want to help kick off your loved one's new decade with a bang? We have some unique themed milestone party ideas that'll help you do just that!
If the birthday girl has a sense of humor…
A word of caution: only plan to execute the following themes if you're positive the celebratee is in good spirits about getting older. The last thing you want to do is unwittingly offend your loved one on his or her special day.
Plan a fake 'funeral'. Ask party guests to dress up in all black and bring a "eulogy" to read aloud. You can even choose to play spooky music and use Halloween décor to help drive home the theme. Create a tombstone cake with a rectangular sheet cake connected to a half circle cake of the same width. Frost together and write in the birth date of the birthday gal or gent.
Throw a jolly geriatric party. Encourage attendees to all come decked out as an elderly person. Blue hair wigs, reading glasses and orthopedic shoes encouraged! Your food can all be of soft variety, mashed potatoes, baby food and the like, implying the birthday girl is so old she'll soon be losing teeth and gumming her dinners. Have an 'adult diaper' cake made and give out party favors like denture cream and laxatives that back up the theme.
Host a roast. Have party guests bring a story to read that causes the birthday boy to relive one of his most embarrassing memories. You can also pick at parts of his personality that are actually endearing, but can be easily embellished for the sake of a good laugh.
If you prefer a kinder approach…
Have a sneaking suspicion the honoree is feeling a little salty about their age? Probably best to go with a fun or sentimental party theme. This will help ensure everyone, the birthday girl included, has a wonderful time celebrating their memorable milestone.
Organize a party themed from the decade they were born. For instance, if they'll celebrate the big 4-0 this year, have a disco themed party a la 1977. Ideally, there will be pantsuits a plenty, disco for days and an influx of afros.
Orchestrate a themed potluck. Each dish could be decorated with the age being celebrated. For instance, have a build-your-own pizza party where you'll judge the best pie as decorated with toppings that each spell out the number "30."
Center around a theme they love. Think of your loved ones favorite hobby or pastime. If they love plants, host a garden party at a park or public botanical space. Or, if they're really into a certain movie or book series, have everyone dress as characters from the work, but be explicit that the birthday boy (or girl) is to be the only one dressed as the main character.
In the end, we should count ourselves very lucky if we have another year to spend with loved ones and continue achieving our goals…even if it means getting older. Still, some years even the most good-spirited among us may need a bit of convincing. These cute, unique party themes are sure to create a memorable milestone for the honoree and maybe even provoke a spirited laugh or two!