Families are more mixed than ever. When blending yours with a new partner, it's important to acknowledge the creation of your new family unit.
The best way to do that? Involve your children!
Regardless of whether you're remarrying or tying the knot for the first time, parents have no shortage of options when it comes to including their child in the wedding ceremony. Ahead we'll discuss a few that are sure to get you smiling.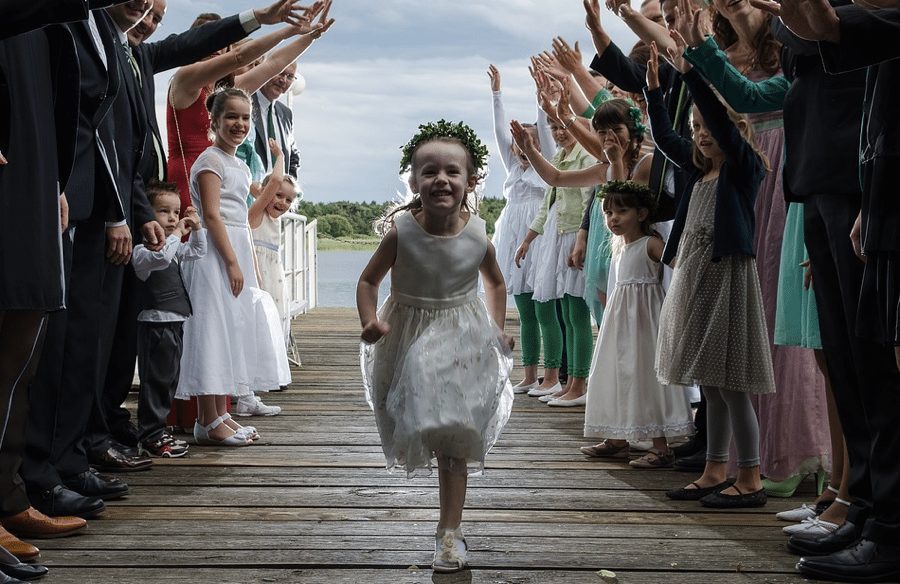 Say Your Vows
Vow exchanges are a special part of any wedding day. It's expected you'll exchange them with your partner, but if you really want to win points with the fam, try writing a few lines for the new child in your life. You're committing to everyone, and heartfelt words are a great way to solidify your bond.
Find Cute Cake Toppers
Fun cake toppers are always a hit. Commemorating your new family with clever characters is a lighthearted way to share your big day. Whether you have something specific in mind or want to consult an artistic expert, Etsy is a fantastic resource. Get a custom build or sift through the many adorable vintage toppers listed in the online marketplace.
Have a Family Dance
Nothing says, "it's a celebration" like dancing. Save the first dance for the happy couple if you wish, but another cute idea is to learn a routine as a family. Some parents like to surprise the party by staring out with a romantic waltz, then busting out some fast-paced footwork with the kiddos. Let your child weigh in on the song and the moves. The added autonomy will help them feel ultra important.
Assign Wedding Duties
Delegating a loved on an official wedding duty is guaranteed to make anyone feel special. But when that someone is your new son or daughter, it carries extra importance. Some ideas might include designating them as an official guest usher or asking them to walk you down the aisle. If they're old enough, you could even let them to serve as your maid of honor or best man.
For the Fur Babies
Are your animals your favorite family members? You're not alone. Incorporating your pet into your wedding is an adorable way to show how much you care. Whether they make an appearance in your engagement or bridal portraits, show up on invitations and save the dates or are a part of the actual ceremony, there's no wrong way to acknowledge your affections. Just check with your wedding event venue or reception hall to see if they allow animals on the premise before you have them act as your ring bearer. Though it's a guaranteed way to elicit all the awwws.
When your forever comes with extra family, embrace them all by doing something special to show your commitment.
Submit Your Tips for Kids and Dogs
Know a fun or creative way to include your kids or pets in your wedding ceremony? Dallas Palms loves to highlight interested wedding ceremonies that include extra family members like children and dogs! Got a great tip and want to include your tip in our guide? Send it to us using this form and we will include it in our guide with a link to your site!
Contact Dallas Palms
Contact us to learn more about Dallas Palms, Dallas' best full-service wedding event venue. Be sure to ask about pricing options and other event details including our new discounted full-service wedding package. Schedule an appointment directly by emailing info@dallas-palms-wedding-event-venue.websitepro.hosting or calling 972-416-1416.